Nico Rosberg, World Champion 2016! 🏆
I think it's safe to say that the end of the 2016 Formula One World Championship was anything but anticlimactic. Lewis Hamilton ended up winning the race in the closest race of the season by - in my opinion - unfairly backing Nico Rosberg into the other cars. But as many have pointed out, it was the only way he was going to win the championship. Without Nico being out of the race or over taken multiple times, he would lose it.
Nevertheless, Nico persevered to win the highly coveted championship and became the second pair (with his father) to join the father-son champion line up. I was so happy for him and watching everyone celebrate was such a special, joyous occasion to witness. I loved watching him nurture his wife and include her in all the things he deserves. I couldn't have been happier.
It was the behind-the-scene action released just days later that shocked me, and the world. Nico Rosberg. On Sunday he achieved his lifelong ambition, emulating his father, he spends the next 6 days each in a different country and on Friday he retired from F1, as reigning world champion, having made the decision just moments after the race finished.
Like many, words can't even describe the shock I was, and still am in. It's crazy to me that he had kept such a secret from the public eye and the fact that he'd been thinking of doing the very thing he ended up carrying out for weeks before also makes me devastated that the F1 world is that harsh and makes it so that even when you're winning repeatedly, you're not enjoying it enough to continue. The unbelievable weight and pressure placed on him must have been torturous but I never thought this would be the outcome.
I think the biggest decision we as fans are now waiting for is the announcement of the new driver to replace him. It was never a doubt in my mind that Mercedes would have Lewis (unfortunately) and Nico but now I am at an utter loss in my predictions. Who do you think will drive for them next year?
I cancelled my Sky Sports F1 subscription, due to the cost, but perhaps it's actually a sign. This year is the hardest at university so I will have more time to study and now with 3 of my top 4 drivers out of their race seats - Jenson and Massa being the other two - I don't even feel the excitement to watch it with the same passion as I usually have and have done since 2008.
I love that Jenson shared his celebration with them but seriously...healthiest cake ever!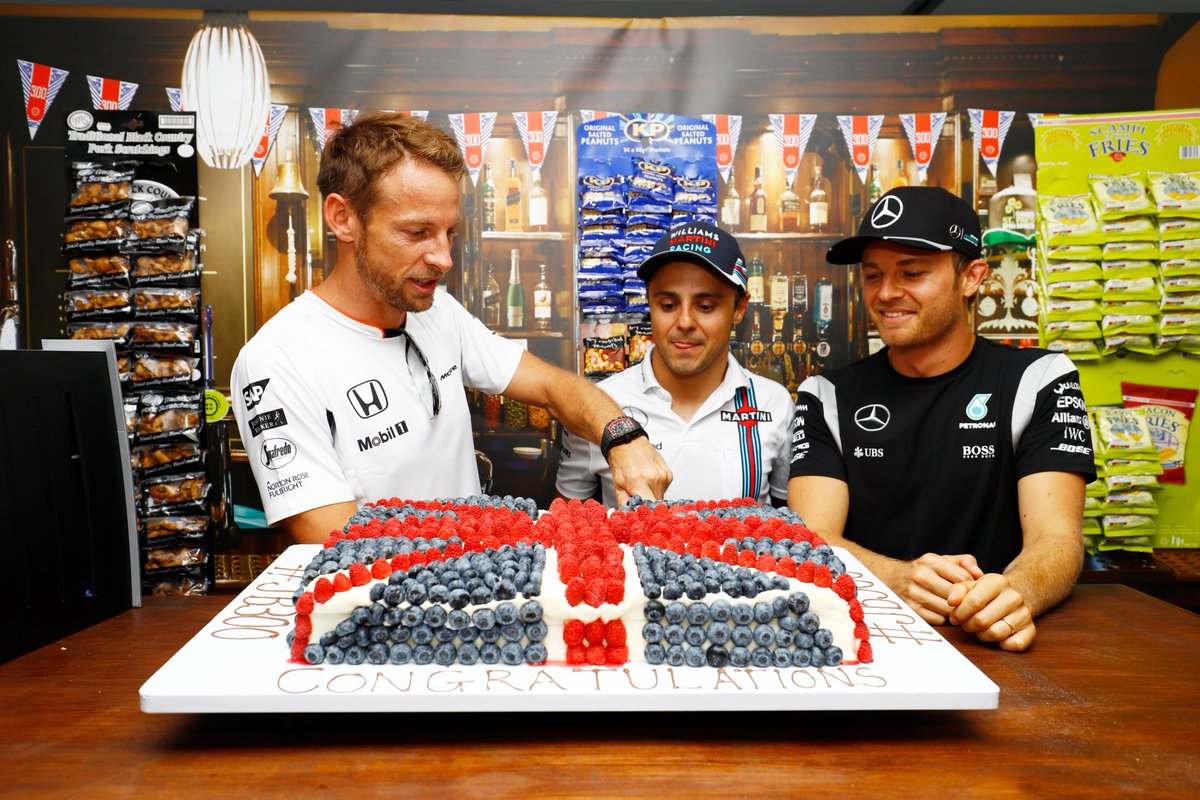 I am so happy he won the championship. I am so in awe of his bravery in retiring as the best drive in the world. I am honoured to have watch him race. I am shocked but I wish him every happiness in whatever he does in his life from now on.
I would just like to say that I admire his strength and dignity in this powerful decision. I am grateful he is staying true to himself and knows what is best for his own life. I think the decision is a very powerful and courageous one and it will be remembered for years to come.
Thank you Nico.